Hi Friends, I can't believe that Spring is already here! It is so beautiful here in Idaho. We are enjoying the sunshine and the 55+ degree weather we've had lately. 
The Lenten season is in full swing and I am excited to be heading out to give several Lenten Concerts in Texas and Montana titled "Reflecting On Our Lord's Passion" over the next few weeks. 
As I have worked, this past month, on putting this presentation together, it has allowed me to really journey with Christ as He took the weight of the world on his shoulders and walked that painful road for you and for me. I must admit, as I was able to take time and meditate on what our Lord did for us, tears flowed several times. I love, and feel it is so important, that we spend each year not just celebrating Easter, but that we take 6 weeks up until then, to journey with Christ as he suffered. 
It allows us time to look at His suffering and know just how much He Loves us
and understands the suffering in our lives. 
This is why we have Holy week… why we put ourselves at Christ's Crucifixion each year...and why we watch movies like "The Passion of the Christ". It's not an easy time in the church calendar but I feel it is very necessary time in order to understand His deep love for us. 
Let us take time this season to stop, to think about His sacrifice and to recommit our lives to building His kingdom here on earth by loving and serving those around us. 
Concert Recap
I had such a great time sharing with the wonderful people of Sacred Heart Parish in Boise on January 31
st
and also in Pennsylvania on March 1-3 (St. Joseph's, St. Rita's and St. Mary's Parishes). Thank you to all who attended, for making me feel so welcome, and for blessing this ministry. I pray you were blessed as well and I hope to come back again in the future. Many blessings as you continue to love and serve the people in your community and beyond.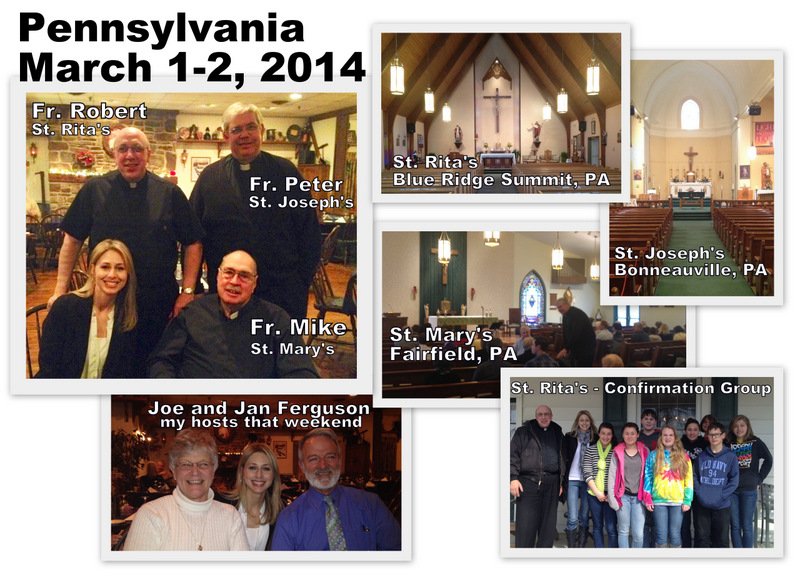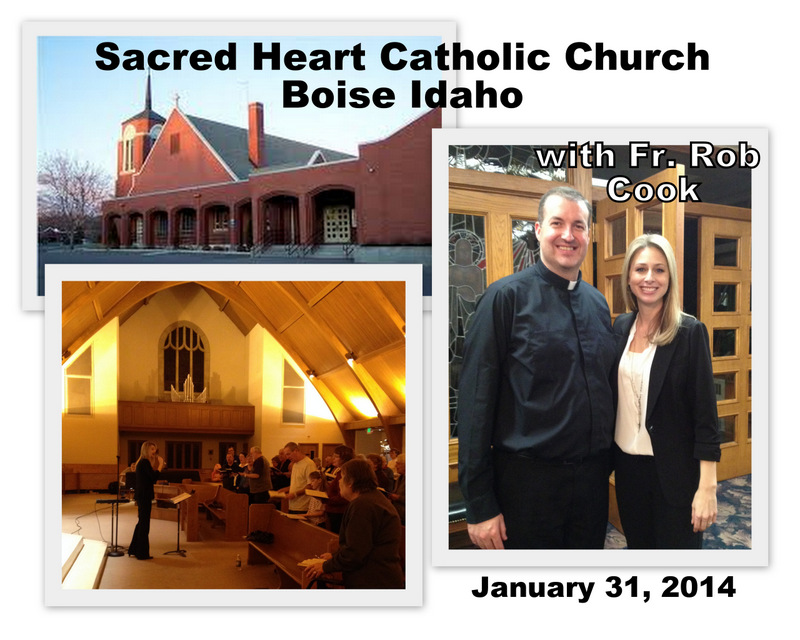 Are You Enjoying The New Website?
We could use your help to make sure we don't have any glitches. Just go to the website and click through the pages and let us know how everything is working? Are the songs, videos and images working for you? Sometimes websites can act differently on different operating systems, so leave us a message if you have any trouble so we can address problems and concerns. Thanks so much. 
SALE In Webstore (Save 20%)
Great Easter Gifts. Great Confirmation Gifts. AND Mothers Day is just around the corner.
Jewelry, T shirts, CD's and more. 20% off March 27 - April 15. 
Be sure to add the following Coupon Code in the Coupon Discount section at checkout.
DISCOUNT CODE: "SPRING"
Currently Booking Concerts and Parish Missions
We are currently booking concerts, events and parish missions for the remainder of 2014 and for 2015 Calendar.  Please contact us if you would like to discuss options. I would love to come to your community and share a concert at your parish or sing a few songs at your Pro-Life event (visit
http://jtmusic.com/types-of-events
to see available concert and event options). 
My husband, Pete, and I are also booking a few parish missions (where we come and present together). Available dates are limited with Pete in school getting his Masters Degree, so don't wait to contact us if you are interested. To read more about Parish Missions go to
http://jtmusic.com/parish-missions
. It's always fun to travel with my husband and be able to share together. 
Thank you for taking time to keep up with and to support this ministry. We couldn't do this without your continued prayers and support. 
Love,
Jaime