It's A New Year!
Happy New Year! I hope that you had a wonderful Christmas and New Year. Other than me catching just about every kind of flu that was going around, ugh, I had a wonderful time during the Holiday season, enjoying time with family. It is so great to be living back in my home-town.  I know I've said that before and I will probably say it again.  I love being back home!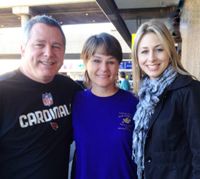 Off to a Great Start
The year started off great! I travelled to Phoenix AZ, January 9
th
, and spent some time with Kurt and Julie Carrick of Carrick Ministries (who have taken me on as one of their artists). We had a wonderful time getting to know each other. They spent some time mentoring/working with me getting me all prepped for the exciting things that will be happening this year. They have been such a blessing to this ministry and I can't wait to see what God has in store for all of us.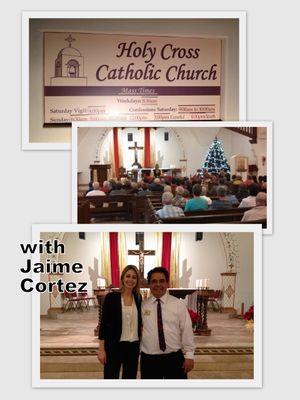 While I was in Arizona I was able to share with the wonderful people of Holy Cross Parish in Mesa Arizona. I sang for all 5 masses that weekend as well as shared a concert Sunday evening. It was a busy but amazing weekend. Thank you to Holy Cross Parish, Fr. Felt and Jaime Cortez (Music and Liturgy Director) for making me feel like part of the family while I was there. Blessings to all of you as you continue to share Jesus with those around you.  
New Website On The Way
We are revamping the website so be on the lookout sometime in late February or early March. We have a new look and lots of new information, music, pics and videos for you, so check back in the next few weeks. 
Calendar Filling Up
The calendar has been filling up so quickly that I'm going to move some of the "Ground Tour" plans until later in the year. Now, I'm really looking forward to travelling to so many different places. So far, I'm headed to Idaho, Pennsylvania, Texas, Montana and Wisconsin. If you would like to add your state or town to the list, give us a call or send us an email.  See you soon.
www.jtmusic.net
Thank you so much for your continued support and prayers over this ministry.  May God continue to bless you. 
Love,
Jaime