Hi Friends,
My wonderful husband and I will be going LIVE from my Facebook Artist Page (@JThietten) for a few days this next week. Each segment will be about 10 minutes. While quarantined at home, we wanted to be able to do Something to encourage others and give hope. We'd love for you to join us.
You can view my April Update/Newsletter below the picture.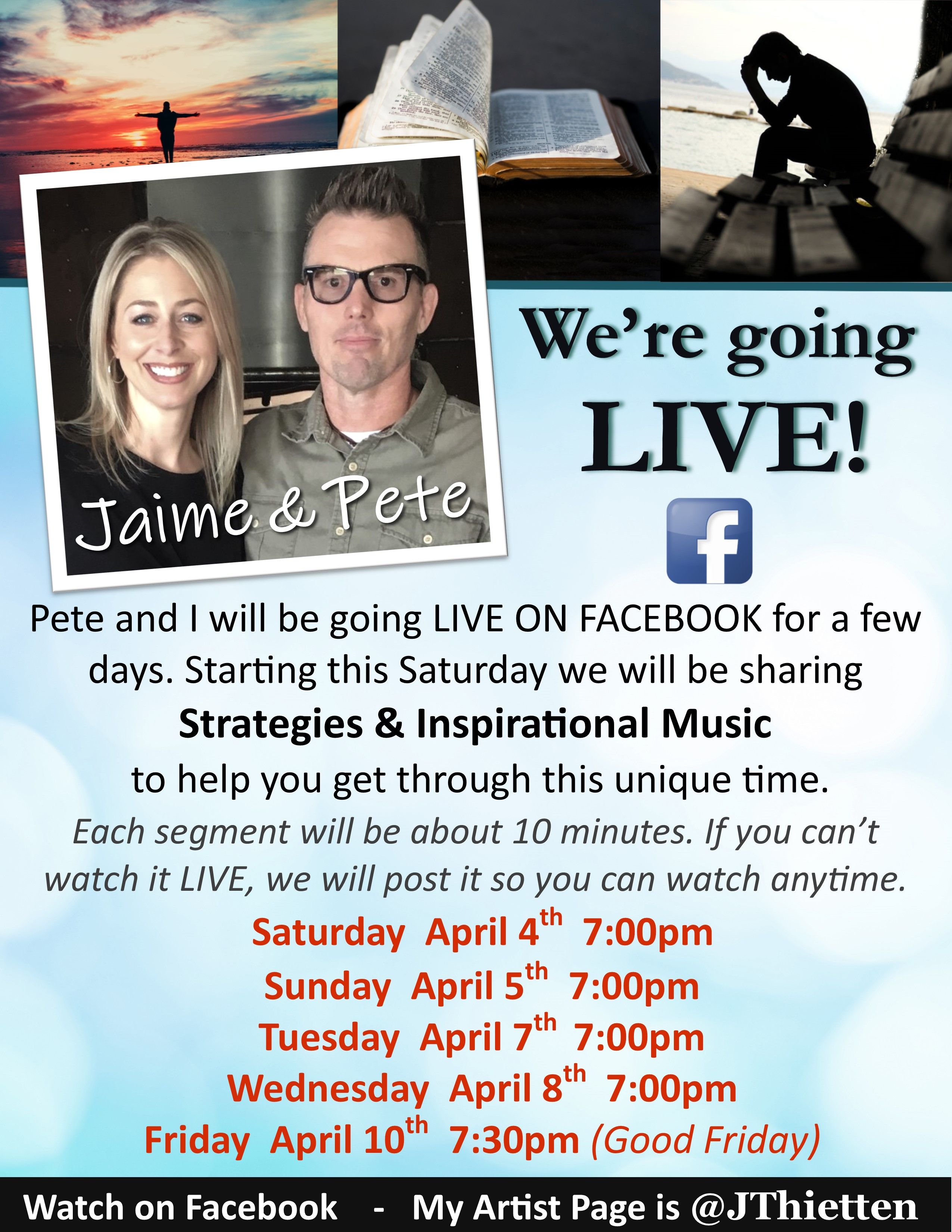 Hi Friends, 
A lot has happened since my last newsletter. We are certainly living in interesting times aren't we? I pray you are all staying safe and well. My husband and I have been spending a lot of time prayer. I have to keep reminding myself in times like this that God did not promise us we wouldn't have hard times or endure suffering, but He DID promise that He would be with us and never leave us during those times. I am counting my blessings that I am able to quarantine and work a little from home. So many of you are on the front lines and I thank you from the bottom of my heart for risking your health to serve and help others. Let's continue praying for our health care professionals, first responder's, military, delivery workers, care-givers, grocery store workers, scientists, leaders and all of those on the front lines serving and doing their best to keep us safe. 
EARTHQUAKE in IDAHO 
Just last night we had an earthquake here in Southern Idaho. We don't get them very often and we are thankful we were over 100 miles from the epicenter which was a 6.5 Magnitude quake which lasted 20-30 seconds. The floor rolled, the light fixtures swayed back and forth, we felt dizzy and a little nauseous, and our dog Mac stood there and stared at the floor. After it was over, my husband and I looked at each other, smiled and said "Jesus, can you just come already?" lol. 
Stay safe and well. Let's continue to cover each other in prayer. 
Jaime 
P.S. I want to end with the words of a meme that's been going around on FB that will hopefully bring a smile. 
"This is the Lentiest Lent I ever Lented."