Happy Easter! 
I hope you are enjoying this wonderful Easter Season. I love that Easter doesn't last just one day. We have 50 days to Celebrate! The Octave of Easter which is eight days of high celebration that begins with Easter Sunday followed by 42 more days of Rejoicing which ends on Pentecost Sunday (May 20). So Keep Celebrating!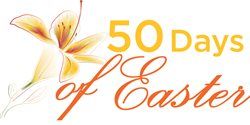 Message from Jaime 
Well the trees and flowers are blooming here in Southern Idaho and everything is greening up and making beautiful scenery to enjoy. For those of us who suffer from seasonal allergies it is definitely a challenge to "enjoy' this time of year. For the past two weeks I've dealt with severe allergy symptoms which include cough and asthma. 
Not Fun for a Singer! 
On Friday I landed in the Doctor for the third time. We are hoping we found the right mixture of products to help get it under control. I ask for your prayers. 
Staying positive? Yes, because I've decided after the past two weeks of being miserable through the post-nasal drip, sneezing and coughing,  that I will try to enjoy the beauty and positive things going on around me. Because no matter what life throws at us, we can decide to be miserable or we can push through the muck and make the best of each day by trying to focus on the good things happening instead of the bad (there will always be both). 
The past two weeks I spent time planning and trying to figure out how I was going to do music full-time with this sudden onset of severe allergies in my 40's. I even thought "well maybe I should do seasonal work and not do concerts in the spring/summer. Will that pay the bills?" (insert sound of numbers crunching here). 
Then I Prayed! 
Yep, should have done that in the first place. 
God knows what I am going through and He is in control. I put all of this in His hands and He will provide. He has a plan. And I will continue to do my best to stay in His Will for my life knowing He has and will continue to provide for all of His children. 
I hope that brings you some peace in whatever trials you may be going through right now. Don't give up. Don't be miserable. Don't try to plan your way out of God's Will for your life because you are scared. Learn from my mistake and let your knees hit the floor first. You will save yourself a lot of wasted energy and peace. 
Do not conform to the pattern of this world, but be transformed by the renewing of your mind. Then you will be able to test and approve what God's will is - his good, pleasing and perfect will. 
Romans 12:2 
Think of Me for Your Next Event 
We are now booking for Fall 2018-Spring 2019 and I would love to come share with your Church/ Parish or Event. 
Please contact me so I can answer any questions you might have and let's get your date reserved on the calendar.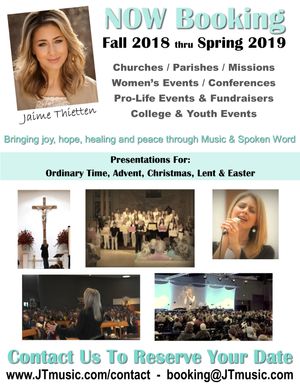 Concert Recap (March in beautiful Pennsylvania) 
I had such a wonderful time in Pennsylvania sharing the Lenten Presentation "Beauty and Hope in Suffering". In York, I shared with the wonderful parishioners of St. Patrick's Church. And in Waynesboro, I shared with the wonderful parishioners of St Andrew the Apostle Church (the students joined me in concert and did a fantastic job!). 
It's a blessing to be able to travel and meet new people and this trip was no exception. I feel like I made some life-long friends on this trip.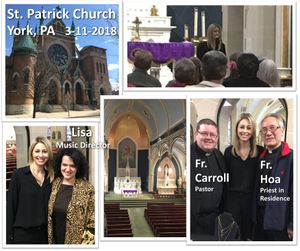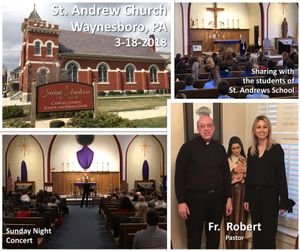 Thank you for inviting me to come, for making me feel so welcome 
and for blessing this ministry. 
I pray the music and message blessed all of you. 
Thank you for supporting this ministry and I pray you have a blessed and safe Easter season. 
Jaime 
Christ Is Risen! Alleluia!