Happy March Everyone! 
What an amazing and blessed whirlwind this year has already been! Traveling and booking is continuing to keep me very busy with more to come. I head to Pennsylvania next week for 11 days and am really looking forward to getting back out to the east coast. 
Below are pictures from the places I've been blessed to share since the New Year began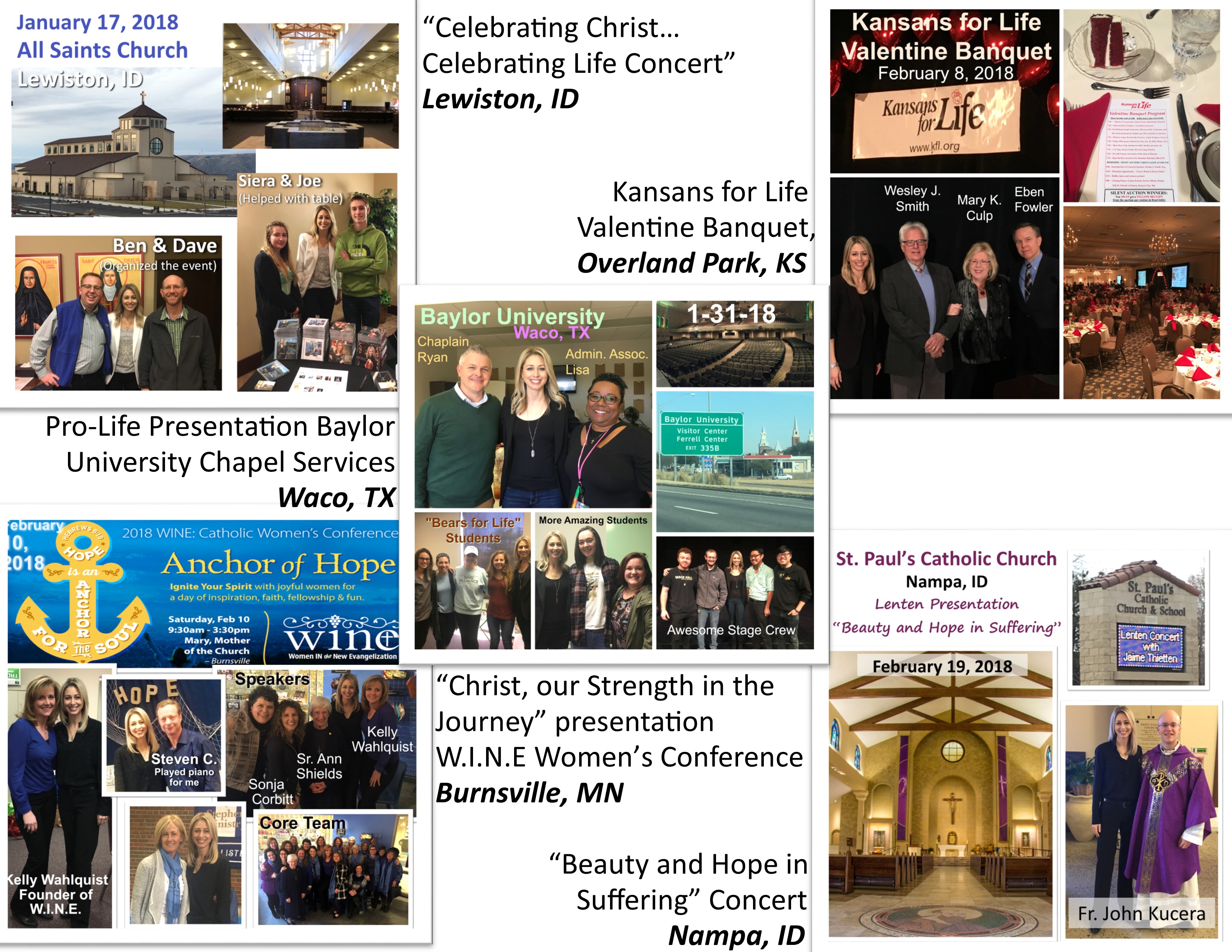 Thank you for inviting me to come and share with all of you. What a joy and blessing to meet new faces and to be able to share what God has put on my heart. 
Health Update on Pete 
THANK YOU THANK YOU THANK YOU THANK YOU for your continued prayers. I'm so happy and excited and humbled to say that God is working miracles in Pete's life. As many of you know, last August Pete was finally diagnosed correctly and began the proper treatment for his jaw pain (after over a year of dealing with debilitating facial, head and jaw pain and put on several heavy neurological medications). You can read updates in my previous posts if you are new to the newsletter and want "the rest of the story". 
Mid February he was able to begin training for his new job as a therapist using his Master's in Social Work degree.  It probably comes as no surprise to you that he specializes in counseling youth and young adults.  He is only able to work very part-time until the doctors wean him completely off of the neurological medications he's on, but he is loving his job! Praise be to God! 
Last week Pete went in for his regularly scheduled Physical Therapy appointment and after working on Pete for 15 min or so the therapist said "I can't find any knots today so you are all good. Just call me when you start hurting." Here is Pete's FB post from last week. I am in tears (tears of joy and relief) as I write this because it has been a very tough 2 years for this man and I am SO happy things are looking up for him. 
Pete's Post last week 
"I was able to work 6 hours today. I know it doesn't sound like much but I haven't been able to do that in over a year. Also, yesterday my jaw PT said he can't find a single knot in either side of my jaw. I had 9 when I started PT in September. I am so thankful for answered prayers, good doctors and support of family and friends." Pete 
And this was Pete's post August 7 of 2017 
"The last couple of weeks have been bad. I have spent nearly all of my time laying on our couch in silence. This crucifix (pic of crucifix in his post)… is on the wall to remind me that someone who went through far worse is watching over me and I am thankful." Pete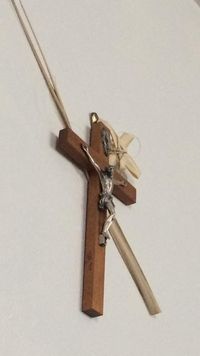 Thank you for your prayers for my husband. We serve an amazing God who answers prayers. Pete never gave up hope. He prayed constantly. He's such an inspiration to me. 
Final Thoughts 
As we are now well on our way into the Lenten Season where we journey with Christ as he suffered, let's all try to look at those things in our lives that cause us pain, things that cause us to hurt or feel broken and try to look at them with an attitude of acceptance (like Christ accepting His cross) and not lose hope. My husband never lost hope. He knew that whether he was healed or not, that God had a plan. We serve a God who suffered greatly, and He knows just how much we suffer. He will never leave our side even in our darkest hour. That is true Hope. 
Have a blessed Lent, friends. 
Jaime