I hope you all are enjoying the beautiful Easter Season. We are enjoying some beautiful weather here in Idaho. In fact, as I write this, I am on my front porch in the shade, while Daisy-dog lies in the grass enjoying the sunshine. 
Back to School
Last fall, my husband and I moved to Pocatello Idaho where Pete took the job as campus minister at St. John's Catholic Center on the Idaho State University campus. It was a tough decision because he had to leave the Master's Program after only 1 year (3 year program) in order to take this position that God was calling him to. Sometimes doing the things God calls us to do isn't always easy. But I am reminded, time and time again, that He is faithful! 
We almost have our 1
st
academic year at St. John's completed and it has been an amazing year. We've had our share of struggles and frustration, but it has really been a great year of fun, learning, and spiritual growth, for both Pete and I. We are so happy to be in Pocatello and blessed to be surrounded by such wonderful people. 
Over the past year, Pete kept trying to figure out how he could stay at St. John's and still be able to finish his Master's degree.  After exhausting most of the possibilities, he finally found a way. Or should I say… "God provided a way".  Last week Pete was accepted as a transfer student into Utah State University's MSW program. He will begin classes on May 12
th
and will graduate in August of 2017. Woohoo! AND… this will not affect his employment as campus minister at St. John's Catholic center. He will be commuting from Pocatello to Utah State's extension Center in Brigham City (hour and 45 min drive) one night a week. And he will be doing his practicum here in Pocatello. 
Now, this is where it gets exciting, and a little scary for me.
I have agreed to partner with Pete in campus ministry for the next two years. Anyone who has partnered with Pete, knows why this is scary. :-)
  We are doing this to ensure that the ministry here at St. John's does not lose any steam or momentum. We are excited about this because we enjoy doing ministry together but rarely get the opportunity to do so. We managed to do a few parish missions together each year but so far that has been the extent of our collaboration. It is really neat how things work out and God's timing in all of this. Pope Francis designated this year (2015) as "The Year of the Family/Consecrated Life" so it would only make sense that Pete and I strive to do more together, as a family, by joining forces and becoming stronger for the Kingdom together in ministry. At our last parish mission a lady told us "You are both amazing and together are greater than the sum total of two". I thought that was cute at first, but then realized that when two are joined together (with God as the center) it's not too hard to be greater than the sum of two.   
This past year I have stretched myself by heading up the Music team for masses. It has been a wonderful learning experience and I look forward to learning and handling more in the day to day operations at the center. Marriage is all about teamwork and I am excited to be able to spend more time with my husband in ministry and helping him to get through school. 
Will This Affect My Music?
Yes, and in a good way. I will still be doing concerts throughout the year, I will just need to be a little more pro-active about planning my availability for touring. I believe, the best way to do this, will be to offer my available dates and try my best to stick to that schedule. 
I will have a list of available tour dates on my website calendar page sometime in May. 
March Tour Recap
I would have to say Lent and Advent are my favorite times of year to travel and share music. I had such a wonderful time this Lenten season. I want to thank Billings MT (Sisters in Faith Women's Conference) for inviting me to come share with all of you. What an awesome event. Pat Gohn (author of Blessed, Beautiful and Bodacious") was the Keynote Speaker/co-presenter and we had a blast working together!  I hope we have more event opportunities to share together in the future. Check out her website. She's awesome!
www.patgohn.net
. Hire us so we can come to your town and work together again. This lady is a kick in the pants! I Love her. :-)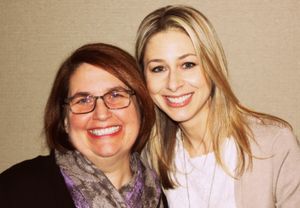 Julie and Pam (event coordinators) were so amazing to work with and did an amazing job putting on this conference. If you live within driving distance of Billings Montana, you should REALLY try and go each year. They put on such a great event!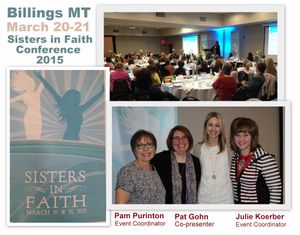 After the women's conference it was on to St. Leo's in Lewistown, where Pete and I were able to spend some time with the youth on Saturday night, attend weekend masses and then do a 2 day parish mission on Sunday and Monday nights. Thank you Lewistown for making us feel so welcome. We had such a great time and hope to be able to come back.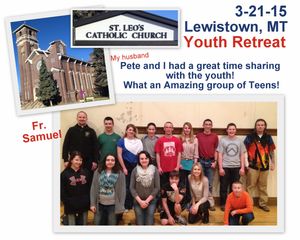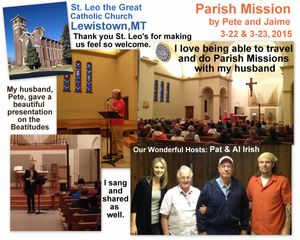 It was a great and blessed month for this ministry. Happy Easter to all of you. Thank you for your continued prayers and support.
Jaime