Hi Friends!
I'm Alive! Sorry it's been so long since my last update. A lot of things have happened in the last few months that have kept me very busy. 
I'd like to start this post with a verse about Trust. 
Proverbs  3:5-6 
"Trust in the Lord with all your heart, 
on your own intelligence do not rely; 
In all your ways be mindful of him, 
and he will make straight your paths. 
I don't know about you, but I find myself trying to rely on my own intelligence A lot. Ugh! Over the past few months I've done some serious thinking and searching, trying to figure out the next chapter of my life. I've spent so much time planning and sorting-out and strategizing and documenting and worrying when I should have been praying, asking and trusting that God has a plan. 
NEW CHAPTER
This past year has been such a struggle to book concerts for myself.  It's been hard to get and to keep a solid booking agent, so I've been doing it all by myself. It has consumed me and it has worn me out! Lol. Over the summer, I did some serious praying on whether this is what God really wants for me or if I should just move on. It's been a good 20 year run with wonderful blessings and amazing opportunities. 
One of the things weighing on my heart has been that Pete was ill for so long. Now with him finally on the road to recovery, maybe me trying to travel and be gone so much is like throwing that gift back in God's face. We've been given a second chance for quality time together. Why would I want to book all of these concerts and be on the road and away from him all of the time? (P.S. We just celebrated our 20 year anniversary in August! Can't believe it). 
Then fear set in… 
If I step back from travelling and doing concerts so much, what do I do for work? 
How do I help contribute to the household finances while still enjoying what I do. 
Should I really take a step back from music and not tour so much? 
…Do not rely on your own intelligence. 
TEACHING VOICE AND WORKING FOR RADIO STATION
In the past I've loved teaching voice, so I decided one day to just put it out there on FB, pray about it and see if there was any interest in the area or if this was the direction God wanted me to go. Well, God opened the doors big time! Since August, I've been teaching at a local music center in Twin Falls and I have 18 students already! God is so good.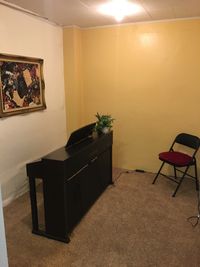 This is my voice lesson room
After all of that happened, I was then offered a part-time position at our local Catholic Radio Station. This helped to fill in the gaps of our finances. I'm also trying to volunteer more in my own community through fundraising events and have been invited to do a few this fall. I'm excited! Trust in the Lord with all of your heart and he will make your paths straight. 
I know we all struggle with direction and what God is wanting from us. I pray that you will really take this verse to heart and know that God wants what is best for you. Trust him with all of your heart, lean not on your own understanding or intelligence, always be mindful of Him and he will make your paths straight. 
THANK YOU!
I want to thank all of you who have supported and encouraged this ministry over the years and who continue to do so. The past 20 years have been amazing and while I'm not quitting entirely, this step back from full time music ministry has been a hard decision but one that I am at peace with. I'm really excited about this next chapter and I am trusting the Lord will continue to make my paths straight.   
IF YOU CALL... I WILL TRAVEL
I will be doing a limited amount of concerts/events per year. Please contact me if you have an event so I can get that date reserved for you. CLICK HERE TO CONTACT ME
Upcoming concerts are listed on my Calendar page. I'll be in Wisconsin Oct 27-Nov 1 and I have some Advent/Christmas Concerts and events around Idaho and Montana this year. 
Many Blessings, 
Jaime