I said I would touch base in September, but it's already gone! How did that happen? Time flies when you're having fun. Or in our case, busy as ever.
Getting Settled
We got all moved and are settling in nicely to our home and job in Pocatello. (See the August post on website if you missed the "move" update.) I spent 2 months fixing up the yard to the rental property we moved into. We had a hard rain the weekend after we moved and I refused to deal with a mud-pit (front and back yard) this winter soooo, I did a little work on the place. Let's just say our landlord is very happy with us, but my lower back doesn't like me anymore. lol. That being said, Daisy is very grateful to have a nice place to potty in her old age.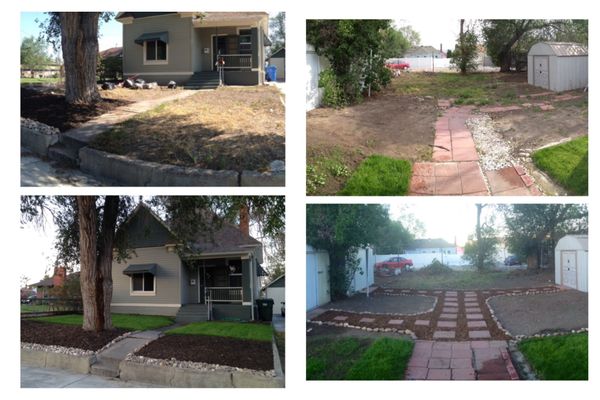 Thank You for prayers for Daisy
Speaking of Daisy, thank you for all of your prayers and support as she deals with this disease (Degenerative Myelopathy, similar to MS or ALS in people). She is doing okay, but each week we see a decline in the strength of her back legs. It looks like we may be less than a couple of months from the sling and the doggie-wheelchair. She's in better spirits about it than we are. It's so hard to see her go downhill like this. We went to the mountains on Saturday and let her limp around for awhile. Look at that smile! She loves the mountains.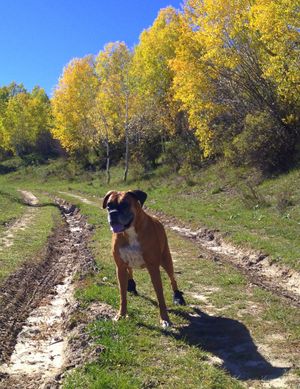 I'm Volunteering at Mass
In addition to being Daisy's Hospice caretaker, I have been busy helping Pete with masses at St. Johns Student Center, on ISU campus. Yes, he and Fr. Hugh recruited me to lead the Music Ministry Team each Sunday. It has been a privilege but also a huge learning curve for me as I have never directed/been in charge of the music liturgy at a parish before. I appreciate everyone's patience as I continue to learn and grow in this new role. I am so excited to be able to work with the students over the next few months and to add more awesome musicians to the team at St. Johns. Go Bengals!!! 
Advent Concerts on the Horizon
I have been booking Advent concerts close to home (with Daisy being sick, I've kept my travelling 'long distances' to a minimum). All of the Advent Concerts are in Idaho, so keep your eyes on the website calendar to see if I'll be in your town.  I plan to put the Places/Dates/Times in the November's newsletter and, of course, on the website. Keep checking back.  
If you would like me to do an Advent concert at YOUR Parish (must be in Idaho), please contact me through the website contact page. I have a couple of open dates. 
Booking Concerts for 2015
-Lenten Musical Presentation (Available Feb 19-March 31)
-I have 
Friday evening open in Texas Houston Area (January 17th).  Email me
if you want a concert in your parish. 
I pray you all enjoy the Fall season. Thank you for continuing to support this ministry. 
Jaime