Well, it's that time of year again. On October 31st, the stores in our town took down Halloween and put up Christmas trees. WAIT! What about Thanksgiving? It seems like Christmas comes earlier each year. Why don't we just make it CHRISTMAS IN JULY, for REAL! I have a sneaking suspicion we will end up there in a few years anyway if the trends continue. Why put off the inevitable. HAHA! 
Daisy Dog Update
Daisy got her wheelchair (Doggie Cart) so we are all ready to go when she is unable to use her back legs. She doesn't like it because she can still walk. They say she won't appreciate or use the cart until she has to rely on it fully. We've tested it out (which she disliked very much) but at least we know it fits. Daisy can still walk and play a bit. But she gets tired very easily so we use the sling to help her get up and down the stairs as well as help her in and out of the car. She is still in good spirits but she sleeps a lot more. Thank you for your continued thoughts and prayers and for those of you who helped us with the wheelchair.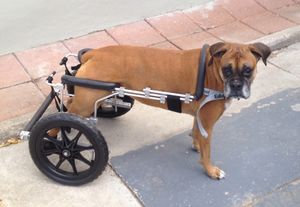 For Halloween, this year, Pete came up with a brilliant idea for Daisy's costume
since she has a hard time walking. 
I have posted pictures of the last 3 years of costumes for you. 
("Daisy", "Daisy Duke" and this years "Driving Miss Daisy"). 
Poor dog. We really need children. LOL.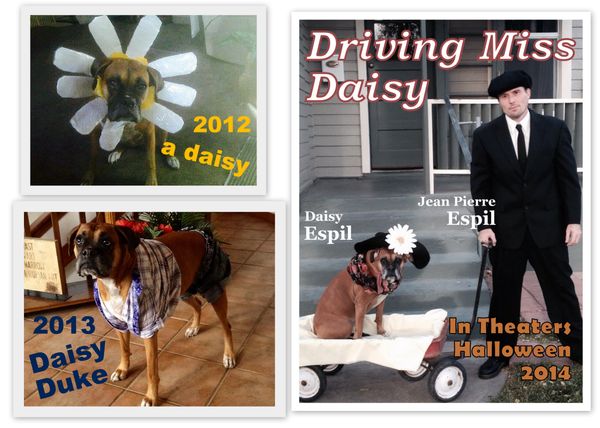 Gearing Up for Advent Concerts
I'm excited to be doing several Advent Concerts in Idaho. Because of Daisy's health, I wasn't able to book as much as I would have liked, or traveled to different states, but hopefully next year will be much fuller (makes me sad to say that because it means Daisy will not be with us anymore). 
I hope I can see those of you who live in the Treasure Valley or near Cottonwood/Grangeville area. The Concert/ Musical Presentation is a wonderful way to get into the Advent Spirit. See you there! 
December 3
rd
 (Wednesday)  7:00pm      St. Mary's Catholic Church                         Cottonwood, ID
December 4
th
  (Thursday)      7:00pm      Sacred Heart Catholic Church                    Boise, ID
December 7
th
 (Sunday)         6:00pm      Our Lady of the Valley Catholic Church     Caldwell, ID

Give the Gift of Music
SALE in the Online Store STARTING December 1st.  
25% OFF your entire purchase at checkout.
CD's, DVD's, T shirts, Jewelry and more.

We have set up a special Coupon Code for you to get
25% OFF everything in our store.

Use the Discount Code: NOEL when checking out in our Store.
Enter it in the Coupon Discount Section when checking out.
https://missinginkshop.com/jaimethietten/store
Happy Shopping!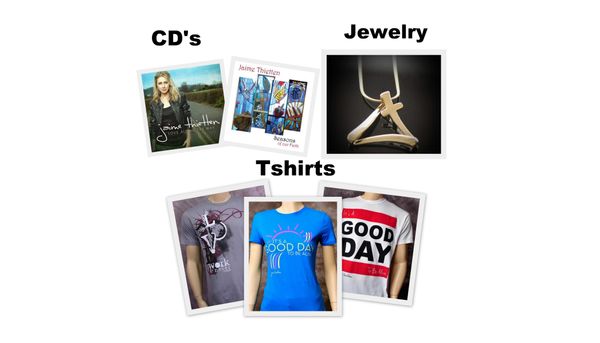 A Grateful Heart
We have so much to be thankful for. I know that there is a lot of bad in the world. Heartache, Hate, Selfishness, Loss and Sadness. I don't even watch the news anymore. But among all of the craziness and heartache don't forget to look around and see the good. Believe it or not, it's still out there and we still have a lot to be thankful for. This Thanksgiving, try to make a list of things you are thankful for and keep those things at the forefront of your mind.
I Am Thankful For…
I am thankful for my God who left His throne and came to this earth to save me from myself.
I am thankful for my Husband, Pete. He is a true gift from God.
I am thankful for my family, who in spite of my shortcomings, continue to stand by me.
I am thankful for my puppy dog who, for 10 years, has shown me what Unconditional Love is.
I am thankful for my friends.
I am thankful for my ministry/job, the team of people that help to keep it going and the wonderful people who continue to pray for and support it.
I am thankful that I live in a country where I can worship freely.
I am thankful for the roof over my head.
I am thankful for the food on my table.
I am thankful that God gives me a little extra to share with those in need.
Happy Thanksgiving Everyone.
Jaime