Hi Friends, 
I hope this message finds you enjoying the Lenten Season. 
  "Lent is a time for personal conversion,
a time when Christians strip away all that is unnecessary
and become more mindful of their dependence on God." 
I love Lent. This year my husband and I decided to limit television and, instead, do more spiritual reading and physical exercising with that time. I'm also trying to be more diligent, daily, about finding and providing for those in need around me. Growth requires sacrifice. I'm looking forward to a lot of "growth" during this time. They say for something to become a habit, you have to do it for 30 days. So the 40 days of lent is the perfect time to start forming some better habits in our lives. Habits that draw us closer to Christ, making better use of our time and talents, making us better people, thus creating a better world around us.  
  
What are you doing for Lent?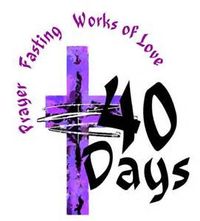 Awesome time in Pullman WA -
Parish Mission with Jaime & husband Pete 
On February 5th my husband and I drove to Pullman Washington to present a Parish Mission for Sacred Heart Catholic Church. We shared an evening session on Friday and then all day Saturday. 
Pete and I don't get to travel and present together as often as I would like because of our jobs. But I want to tell you that every time I do a parish mission with Pete and am able to listen to him speak, teach and share, I am blown away by how talented and amazing he is. I feel so blessed to be married to such an incredible man and I thank God for bringing Pete into my life. I really can't imagine my life without him. 
We had such a wonderful time sharing with and meeting the wonderful parishioners in Pullman. Thank you Sacred Heart for making us feel so welcome and for your wonderful hospitality while we were there. Thank you Fr. Jeff Core for inviting us to come. Keep up the wonderful work you are doing at Sacred Heart. Blessings to all of you.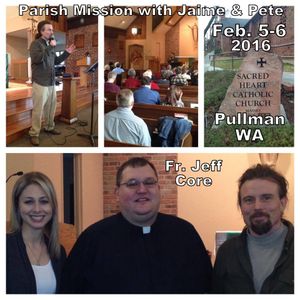 Upcoming Event 
I am really looking forward to sharing at the Women's Conference in Billings MT again. Last year was an absolute BLAST and I am excited that they invited me back this year. You won't want to miss it! Johnnette Benkovic is the Keynote speaker. Hope to see you there if you live within driving distance. 
Go to my Calendar page for more information and how to get tickets.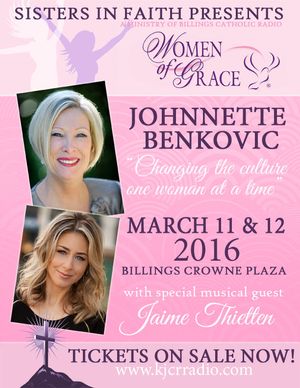 GREAT Gifts for Confirmation and Easter-
SPECIAL SALE 
The Eternal Zoe Necklace is continuing to be a favorite at my concert CD table. Designed by a friend of mine from a dream she had. It's a beautiful and unique way of remembering what Christ did for us on the cross. 
  
"The Eternal Zoe Design also known as, Cross of the Trinity, 
was born from a dream. 
It gives a profoundly simple glimpse of God's plan 
to bring mankind into his very own life." 
  I am offering special pricing on this beautiful necklace through Easter.
$25 (reg. $30).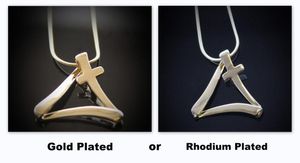 Progress on the Christmas CD 
Some exciting things are unfolding as we continue to prepare to record the NEW Christmas CD this summer. Stay tuned for next months newsletter. Thank you again to all of you who donated towards the project making it possible. All for God's glory. 
Praying you have a blessed Lent. 
Jaime