As we approach the Thanksgiving and Christmas Holidays and try harder to focus on what we are thankful for in our lives as well as doing more to share our blessings with others, I thought I'd share this quote with you.
Gratitude is the music of the heart,
when its chords are swept by the breeze of kindness.
- Author Unknown
I find that it's a constant battle to stay positive and not complain about things on a daily basis. Don't judge me. (wink). As I've transitioned back into the 9-5 job world again over the last couple of months, I've found myself complaining about how much is on my plate each day, when instead, I should be celebrating the fact that I have an incredible job that allows me to still be in ministry and is providing a way for me to help put my husband through school over the next 2 years. While this job is stressful and overwhelming at times and is stretching me to be a better time-manager, there are so many blessings that come along with this job and this letter would be WAY too long if I started listing them. The same goes for other areas in my life. The point I am trying to make is that if we can focus on the good, it FAR outweighs the bad. There is so much negativity around us trying to pull us down and focus on what we are lacking. When we do this we are unable to see the blessings. If we are always complaining and seeing the negative, then we tend to hold on to things much tighter.
CHALLENGE
Together, over the next few days and weeks, let's have an "attitude of gratitude". Think about all that is good in your life and the blessings God has given you. When we do this there is a chain of events that unfold.
1. We are able to see how much we actually have and how blessed we are.
2. Which causes us to open our eyes and to see what others are lacking.
3. This opens our hearts and minds to be able to share with those less 
    fortunate than us.  
4. It allows others to experience gratitude. 
5. Starts back at 1 again.
As this is repeated over and over again, from person to person, it makes the world a better place for all. Let's see how much positive change we can make over the next few weeks.
What are you grateful for? Start making your list. 
GEARING UP FOR CHRISTMAS CONCERTS
Because of my new job at St. John's, I am limited on how much time I can travel and sing this Christmas. But I am excited to announce that I will be doing 3 events in December and I'd love to see you there if you live nearby.
December  6   2:00pm    Monastery of St. Gertrude, Cottonwood, ID
December 11  7:00pm    St. John's,  Pocatello, ID
December 12    TBD
  Amazing Grace Fellowship   Twin Falls, ID 
                                        (Singing a few songs with Pastor Lynn Schaal
                                        at his Concert) 
NEW CHRISTMAS CD to be released 2016 - FUNDRAISING AND I NEED YOUR HELP
I am working on putting together a FANTASTIC Christmas CD to be recorded and released in 2016. LIVE Orchestra, Boys Choir, Duets with a couple of well-known Nashville singers and much much more. I am so excited about this project and what we have in place so far but I need your help to make it happen.
We've
already raised $14,050
and we have
$15,950 to go
. If you would like to be part of helping me make this CD a reality you can learn more by going to
www.JTmusic.net/donate
.  More detailed information about the project is there as well as instructions on how you can make a TAX-DEDUCTIBLE donation to my ministry for this Christmas Project.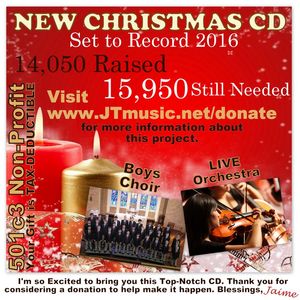 Thank you for prayerfully considering a gift this year and for your continued support.
I hope you have a Wonderful Thanksgiving.
Jaime