As I sit down to write this message, I am struck by the little miracles and small blessings of everyday life... I am surrounded by the few Christmas Decorations Pete and I have kept through the many moves (10) we've made in our 16 years of marriage. Our Charlie Brown Christmas Tree, a beautiful sculpture of the manger scene, the Snoopy Dog house that goes along with the Tree, a wreath and stockings hanging in the kitchen (where I imagine the fireplace would have been since the now closed off chimney is directly above it). The scent of our Pecan Pie Candle is wafting through the house and my precious dog, daisy, is sacked out at my feet after an exhausting game of 'tug of war' with her favorite dragon squeaky toy. I see the hand of God in all of this. I just love this time of year. 
Good to Be Home
I arrived home last Monday after a week of touring my Advent concert in Cottonwood ID, Boise ID and Caldwell ID.  The concerts were well attended and a huge blessing to this ministry.  I want to thank those who came out and supported me.  I hope you enjoyed the music as much as I enjoyed sharing it with all of you.  It was great seeing so many familiar faces. Pete and Daisy were so happy to have me back again and it was good to be home. I miss them so much when I'm on the road, but that is what we all signed on for. Awe… the life of a Christian recording artist. 
Organize a Flash Mob Black Friday? But I want the week off! -LONG but WORTH THE READ
The Saturday before Thanksgiving, my sister called and told me a friend of ours (who just lost her little boy, 3yrs old, in a tragic accident several weeks before) called her and said she'd like to do a Flash Mob on Black Friday. She just felt that we needed to steer our focus back to what Christmas is all about and bring joy to our community on such a "selfish-push and shove" kind of day. 
I must admit, my first thought was, "oh no! I can't! I just need 1 week off from music. If I commit to helping and leading the music for this then I won't get my WEEK OFF! I need a week off! (Stamping my feet inside my head) 
Since I am the middle child (the people pleaser/peacemaker), I have a hard time saying "no". So I told my sister I would help and I spent my 'week off' helping organize the musical part of the flash mob. I must confess, I grumbled the entire week about how I didn't have as much time to rest. I had already committed to recording a music video for a local television Christmas program and just hated having more on my plate during Thanksgiving break. 
We held 2 practices with 40+ singers and it wasn't until after the 2
nd
practice that I started getting excited. My focus shifted off of myself and onto this hurting mom, who instead of thinking of herself and her heartache, thought of those around her and spreading the hope and joy we all need to feel around Christmas time.   
This was not only about helping the dream come true for a special mom in our town
who just lost her little boy, but about a town who needs joy and
to be reminded of what Christmas is about.
My "attitude" was changed. My excitement grew and the SCROOGE in me disappeared. I was giddy. 
Unfortunately, I was unable to attend the performance of the FlashMob that Friday because my husband got sick, so I drove him home (1.5 hr drive) and took care of him. Thankfully, my cousin put a video together and so I was able to see how it went. It turned out AWESOME and I feel blessed to have grown up in a town that not only has wonderful voices, but is also full of wonderful people with such giving/ selfless hearts!  
Let us try to remember what this Advent/Christmas Season is all about. Celebrating the birth of our Savior, who humbled himself (with no complaining or grumbling) and came to us as a baby, was born of a virgin and became man. He came to plead for the salvation of sinners and to bring hope, life and joy to a hurting world. His life is an example to all of us. He came to love and to serve those around Him. And we are called to do the same. 
There is a lot of hurt in this world and so many are struggling financially, emotionally as well as feeling the loss of loved ones. May God bless you as you do what YOU can to brighten the life of someone who needs it this Christmas.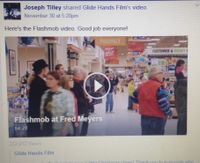 VIDEO LINK To Flash Mob, Twin Falls, ID
http://youtu.be/ab7520ngeZo
The Video has had Over 221,000 views on Facebook and over 5,500 Shares. God is Good.
May it bring a smile to your face.

Need any last minute gifts?
Encouraging Music, Christian T shirts, Eternal Zoe (Life) Necklace and more.
25% OFF
through the end of the month.
Use the Code

NOEL

during checkout.
LINK TO STORE
:
https://missinginkshop.com/jaimethietten/store
Merry Christmas from Our "Crazy" Family to Yours.